PN ISO/TR 9705, PN-EN 16989
Laboratory
DETERMINATION OF THE COMPLETE PASSENGER SEATING BURNING BEHAVIOUR WITH METHOD ACCORDING TO PN ISO/TR 9705 AND PN-EN 45545-2, ANNEX B and
PN-EN 16989
Principle of the test method.
This test provides a means of determining the burning behaviour of seating intended for use in railway applications by measuring specific fire test responses when the test specimen, which may be a complete passenger seat (including arm and head rest, separate pillow, tip up seat or a driver seat accessible to the passenger) is subjected to a specified flaming ignition source with the power of 7 kW

or 15 kW (PN-EN 16989) under well-ventilated conditions

. The vandalism test for seat coverings shall be performed by the fire laboratory before the fire test for vandalised seating to determine the extent of vandalism that shall be reproduced on the fire test specimens. The heat release rate from a burning test specimen shall be measured by oxygen consumption calorimetry. The test method is based on the observation that, generally, the net heat of combustion is proportional to the amount of oxygen required for combustion. The relationship is that approximately 3,1 MJ of heat are released per kilogram of oxygen consumed.
From these data, the
MARHE
value shall be calculated.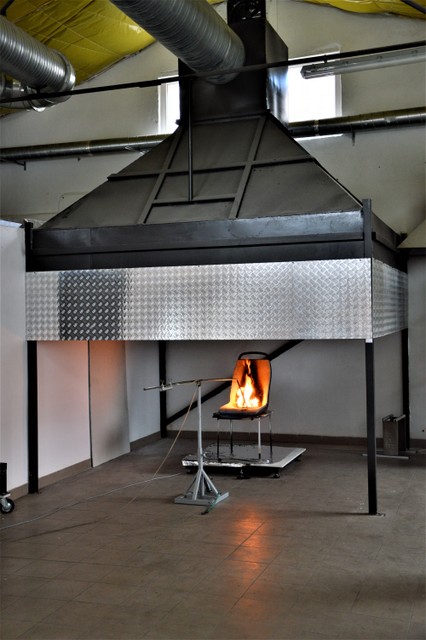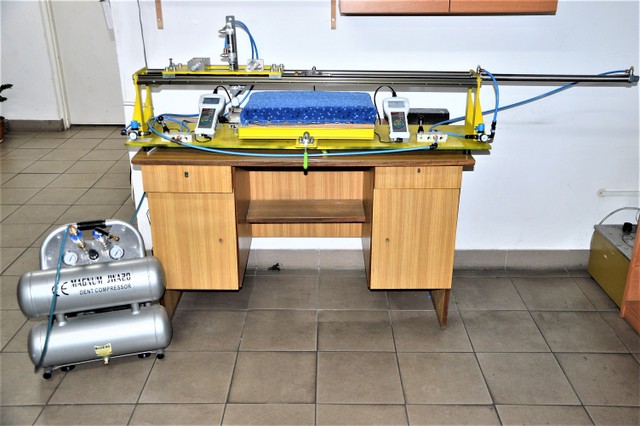 Stand for testing reaction to fire of furniture
Three full passenger seats representative of production supply, appropriately vandalised, shall be tested. The seats shall include arm and head rests, back and base shell.
Applying research methods -
railways (according to R18 requirement of the norm PN-EN 45545-2).