TESTING OF THE IMPACT OF WOOD PROTECTION MEASURES ON FLAMMABILITY OF WOOD USING CALORIMETER CONICAL METHODS IN ACCORDANCE WITH PN-C-04914 AND ISO 5660-1
Principle of the method.
A comparative method was used. A sample of the wood under test in a horizontal position shall be subjected, in the presence of an external spark igniter initiating combustion, to the operation of a heat flux of 30kW/m2 produced by a tapered electric radiator and measuring the changes in the concentration of oxygen in the gases Combustion. Based on changes in oxygen concentration, the intensity of heat is determined.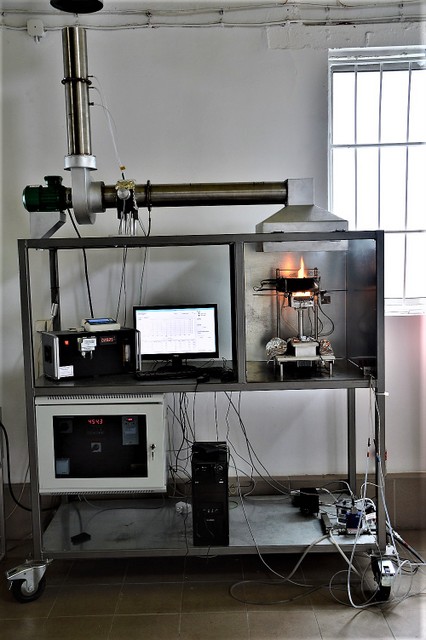 Stand for testing effect on flammability of wood after treatment wood by wood preservatives
Tests shall be carried out for samples of wood protected and unsecured. The value of the impact of the wood protection measure on its flammability is the percentage change in measured parameters.
The following measured parameters are compared:
maximum heat transfer rate, kW/m

2

,

average heat transfer rate in 180s after ignition, kW/m

2

,

average rate of loss in weight of wood sample, g/m

2

×s
It is assumed that the wood protection product does not affect flammability when it prolongs the ignition time by at least 50% and reduces the remaining parameters by at least 120%.
Test samples. For testing a representative sample of the wood protection product shall be taken to be protected by pine wood. The tests are carried out on the whites of common pine with dimensions 100x100x10mm.
The number of samples tested depends on the physic-chemical properties of the wood protection product, the concentration and the method of application. For each concentration of the wood protection product and any method of application, prepare:
six samples for measures used in the form of aqueous saline solutions,

twelve samples for solvent and oily agents,

six samples of unprotected wood.
Application of the test method –
wood and chemical industry