PN-EN ISO 6940
Laboratory
FLAMMABILITY TESTS VERTICALLY SUPPORTED TEXTILE PRODUCTS WITH A METHOD ACCORDING TO PN-EN ISO 6940
Principle of the method.
This test consists of exposing samples, held in a vertical position, to a flame and determining the speed of propagation of the flame over the tested material tested. The value is measured by the time required to cause the ignition of the product sample. The shortest time needed to ignition of the product sample is measured.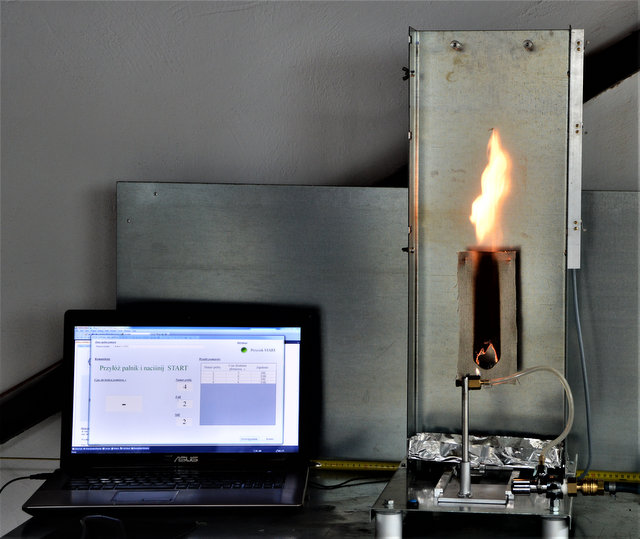 Stand for testing reaction to fire of vertically oriented specimens (textile fabrics)
Tests may need to be conducted to either surface exposure or edge exposure, or both
Test specimen. For each exposure condition, a minimum of six representative specimens of the product shall be tested. Three specimens shall be cut lengthwise and three crosswise. The studies shall cover materials and textile products including products processed in the form of mono-component or multi-component materials (coated, quilted, multi-layered and similar systems).
Where a product has areas of its surface which are distinctly different, but each of these separate areas can satisfy the surface characteristics for essentially flat products, then more than one test set shall be conducted to evaluate the product.
Therefore, the exact number of samples can be determined only after the initial examination.
Dimensions of the test specimens.
If the dimensions of a material do not permit taking a sample of the given dimensions the test shall be carried out, in accordance with the Technical Service, on the fitted size of the material which shall be mentioned in the test report.
Applying research methods: