THE TOXICITY TEST FOR THERMAL DECOMPOSITION AND COMBUSTION PRODUCTS OF CABLES WITH A METHODS ACCORDING TO PN-EN 50305, NF X70-100-1 I NF X70-100-2
The principle of the method consists in the quantitative determination of the products of thermal decomposition and combustion of materials decisive for the toxicity of the fire environment. The thermal decomposition and combustion of samples of the test material shall be carried out in horizontal tube furnace (Fig 1) at temperature 800oC. At the time of the test, the specific mass emissions of CO2, HCN, NO, NO2, SO2 , HCl, HBr and HF shall be determined, which means the mass of the toxic product produced during the thermal decomposition and combustion of the material mass unit in the test conditions concerned.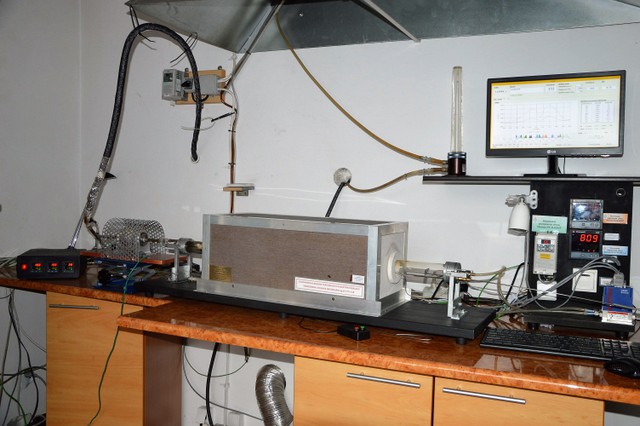 Stand for testing the toxicity of the products of decomposition and combustion of cables
The FTIR analyzer is used to measure the specific mass emission, which measures continuously the mass concentration – cmi of the CO, CO2, HCN, NO, NO2, SO2, HCl, HBr and HF in the flowing products of the thermal decomposition and the combustion of the material sample. On this basis, for the mass of sample and the volume flow rate of the gases, the control-measuring system shall determine the mass emission only for CO, CO2, HCN, NO, NO2, SO2. These values allow the conventional toxicity index CITC for cables to be determined.
In accordance with the requirements of PN-EN 50305, the cable sheaths should be without halogen products. The lack HCl, HBr and HF of cables thermal degradation and burning is a confirmation of this requirement.
Test specimen. The test at each temperature must be prepared after 3 samples. The mass of the sample should be 1+/-0.05 g. For materials for which compliance with these requirements is not possible, smaller samples with a mass of 0.500g+/-0.050g or 0.250g+/-0.050g.
Samples must be prepared using the appropriate processing method for the material or by cutting or taking out of the finished product while maintaining the representativeness of the layers.
Applying research methods: railways (according to: R15 and R16 requirements of the norm PN-EN 45545-2 and PN-EN 50305).