PN-EN 597 BS 7177 FTP 9
Laboratory
TEST FLAMMABILITY OF IGNITABILITY OF BEDDING ITEMS, MATTRESSES AND UPHOLSTERED DIVANS WITH THE METHODS ACCORDING TO PN-EN 597-1, PN-EN 597-2, PN-EN ISO 12952-1, PN-EN ISO 12952-2 AND
IMO 2010 FTP CODE PART 9
Principle of the test.
The method is designed to test the flammability of bedding components, such as blankets, duvets, bedspreads, pillows and mattresses, including thin, lightweight mattresses used on top of other mattresses.
The flammability test of bedding components consists of the interaction of small flame sources For samples corresponding to the actual element of the bed linen and the observation of the effects of this impact. The horizontal position of the sample is placed on a metal base with a smoldering of a cigarette covered cotton-wool pad and a flame of a gas burner with a heat output equivalent to the flame of a burning match.
A smoulderable insulation of cotton-wool pad on a smouldering cigarette is used as a smouldering ignition source, which is intended to simulate possible smoulderable materials used in bedding.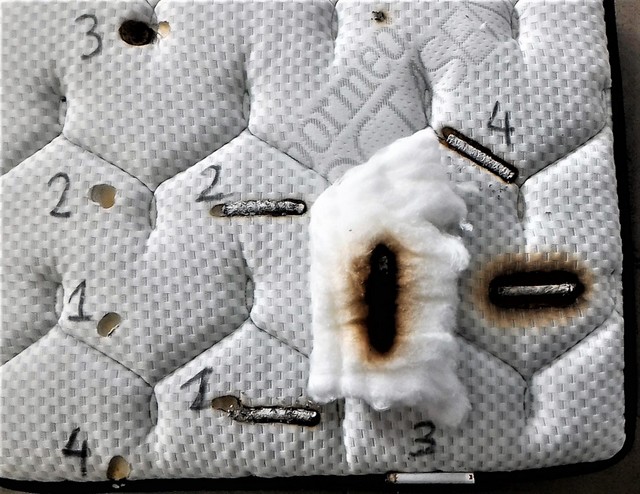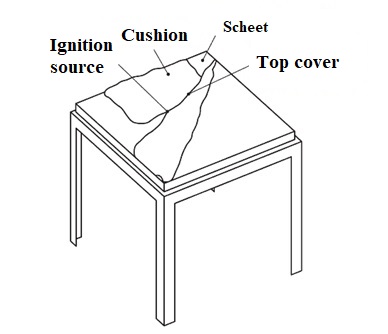 Stand for the testing the assessment of ignitability of bedding items, mattresses and upholstered divans
Test specimen
The specimens shall be representative of the whole product to be tested. If possible, the specimens shall be taken in such a way that ignition can also be started along seams and their intersections. The top side is exposed. Where there is doubt as to which side is the top side, the test shall be carried out on both sides. Four additional specimens are then needed.
Mattresses. Sufficient material shall be available for making at least four specimens with dimensions 450 mm x 350 mm in full nominal thickness. For testing of mattresses with removable covers, sufficient material shall be available for the making of at least eight specimens, four with and four without the mattress cover, with dimensions 450 mm x 350 mm in full nominal thickness.
Pillows. Four samples in full size shall be available.
Other than mattresses and pillows. Four specimens each of size 450mmx350mm shall be cut from each sample. If the product contains loose filling material, the edges shall be sewn. It is advisable to sew the seams before cutting the specimens in order to avoid loss of filling material.
Evaluation of results. If, within 1h of the application, the ignition sources no progressive smouldering ignition or flaming ignition of any element of the upholstered system is observed, the result of the test of this system shall be considered positive.
Applying research methods:
shipbuilding (requirements according to

IMO 2010 FTP Code Part 9

),

UK requirements (requirements of the norm BS 7177).