PN-EN 60695-11-20 UL 94
Laboratory
IGNITABILITY TEST OF MATERIALS AND PRODUCTS WITH 500 W THERMAL POWER FLAME TEST METHODS ACCORDING PN-EN 60695-11-20
Principle of the method. Small-scale laboratory test procedures intended to compare the burning behavior of different materials used in electrotechnical products when vertically or horizontally oriented test bar specimens are exposed to a small flame ignition source with nominal thermal power of 500 W. The test method uses two test specimen configurations to classify material performance. Rectangular bar-sharped test specimens are used to assess ignitability burning behaviour, and square plate test specimens are used to assess the resistance of the test specimen to burn-through.
The level of fire hazard to be determined shall be the classes 5VA and 5VB. The listed classification is identical with the US classification UL 94: UL 94 5VA and UL 94 5VB because the test is carried out by identical methods.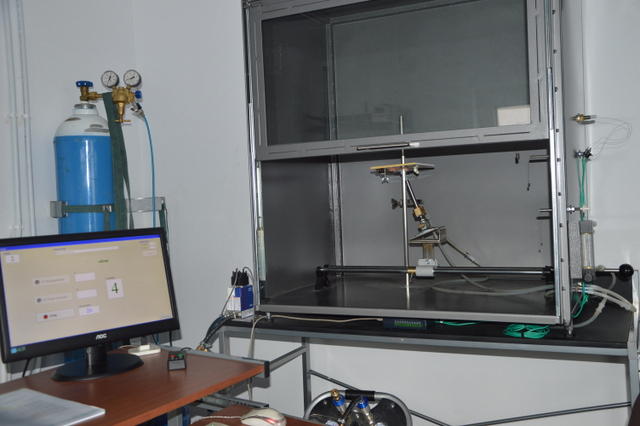 Stand for testing the assessment of ignitability of materials/products with 500 W thermal power flame test methods
The material/product samples are tested in vertical position (method A) and horizontal position (method B). The firing time of the sample is the flame of a gas burner with a thermal power of 500 W for each item 5 times after 5s. During the study the afterflame time t1 and the afterglow time t2 are determined. Note and record any particles or molten drips fall from the test specimen and, if so, they ignite cotton pad.
Test samples.
The test shall be sampled in rectangular bars of a length of 125, 6±5 mm and of a width of 13±0.5 mm and in the form of plates with a length of 150±5 mm and a width of 150±0.5mm with a minimum thickness for the product (preferred thickness: 0.75mm; 1.5mm; 3.0mm; 6.0mm and/or 12mm). The thickness of the sample should not exceed 13mm. Testing for other thicknesses may be performed, provided that this is indicated in the report. The edges of the samples should be smooth and the radius of the edge must not exceed 1.3mm.
To complete the test, 20 samples shall be prepared in the form of rods and 12 samples in the form of tiles.
Classification
The material shall be classified either 5VA or 5VB, in accordance with the criteria indicated

in

Table 1, based on the behaviour of the bar test specimens and plate test specimens.
Criteria

5VA

5VB

Afterflame time plus afterglow time after the fifth flame application fo each individual bar test specimen

The cotton pad indicator is ignited by flaming particles or drops from any bar test specimen

Did the sample burn completely?

Have any plates been through burned?

If

the test results are not in accordance with the specified criteria, the material cannot be classified by this test method
Applying research methods - civil engineering (electric products)