ISO 3795 R118a6
Laboratory
TESTING OF THE HORIZONTAL COMBUSTION RATE OF INTRA-MOTOR VEHICLE MATERIALS WITH A METHODS ACCORDING TO PN ISO 3795 AND APPENDIX 6 OF REGULATION NO. 118 EKG
Principle of the method.
The sample in the horizontal position is subjected to a low-energy flame for 15 seconds. During the test, the burning time and the length of the burnt portion shall be determined.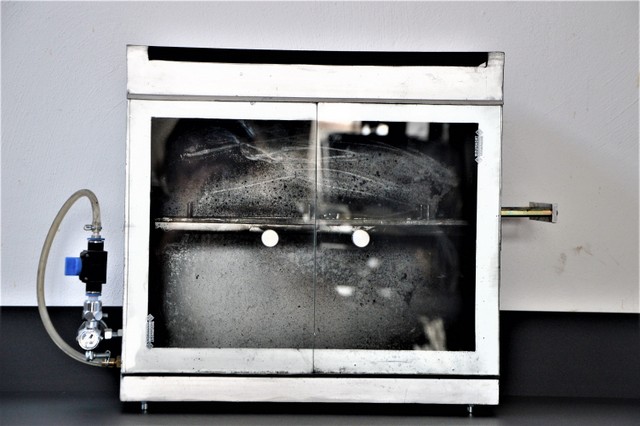 Stand for determining the horizontal burning rate of interior motor vehicle materials
Based on the measured time achieve through the forehead of the flame control points, the rate of combustion is V
burning speed horizontal, mm/min
.
Note. Only the horizontal burning rate is taken for the classification assessment for cases where the flame has reached the last control point or the end of the sample.
Test samples.
At least five samples shall be taken from the test material. Materials having different flammability levels in different directions must be sampled by five (or more) samples in each direction.
When the material is supplied in widths, a length of at least 500 mm shall be cut covering the entire width. From this the samples shall be taken so as to be at least 100 mm from the material edge and equidistant from each other.
Samples shall be taken in the same way from finished products, when the shape of the product permits. When the thickness of the product is more than 13 mm, it shall be reduced to 13 mm by a mechanical process applied to the side which does not face the respective compartment (interior, engine or separate heating compartment).
Composite materials (see paragraph 6.1.3.) shall be tested as if they were of uniform construction. In the case of materials made of superimposed layers of different composition which are not composite materials, all the layers of material included within a depth of 13 mm from the surface facing towards the respective compartment shall be tested individually.
Dimensions of the test specimens.
Applying research methods – motor vehicle (requirements according to Regulation no. 118 EKG Appendix 6