PN-EN ISO 4589-2 (OI)
Laboratory
DETERMINATION OF MATERIALS BURNING BEHAVIOUR BY OXYGEN INDEX WITH A METHOD ACCORDING TO PN-EN ISO 4589-2
Principle of the method.

A small test specimen is supported vertically in a mixture of oxygen and nitrogen flowing upwards through a transparent chimney. The upper end of the specimen is ignited and the subsequent burning behaviour of the specimen is observed to compare the period for which burning continues, or the length of specimen burned, with specified limits for such burning. By testing a series of specimens in different volume fractions of oxygen, the Oxygen Index (OI) is estimated.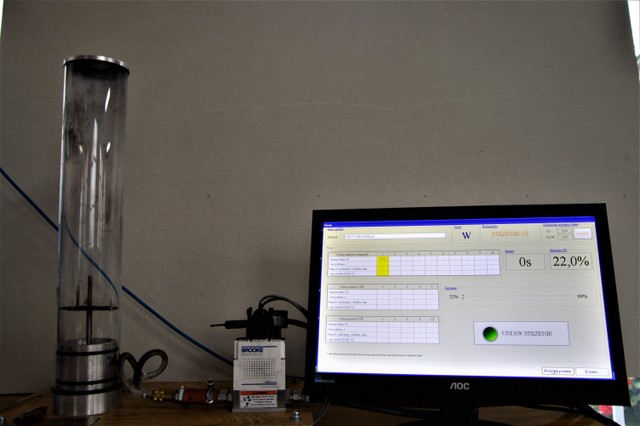 Stand for testing burning behaviour of materials by oxygen index
Test specimen.
One should prepare samples with the method typical of given material of the processing or by cutting from the final good and working to required dimensions. One should form or cut out fittings of test samples so that their dimensions meet requirements concerning the corresponding type of the fitting the most, how they gave in the table.
Table - Test Specimen dimensions
Typical use

Dimensions, mm

Length

Width

Tickness

Sheet materials "as received"

Alternative size for self-supporting moulding or sheet materials, for electrical purposes

Thin film "as received"; limited to the film, that can be rolled by the specified rod
One should prepare 20 samples for every test.
Applying research methods: railways (according to: R22, R23 and R24 requirements of the norm PN-EN 45545-2).