PN-EN-1021 FTP 8
Laboratory
TEST FLAMMABILITY OF UPHOLSTERED FURNITURE WITH THE METHODS ACCORDING TO PN-EN-1021-1,
PN-EN-1021-2 AND
IMO 2010 FTP CODE PART 8
Principle of the test.
The principle is to subject an assembly of upholstery materials arranged to represent, in stylized form, the joint between the seat and back (or seat and arm) surfaces of a chair to two sources of ignition, one being a smouldering cigarette, and the other a flaming source approximating to the calorific output of a burning match.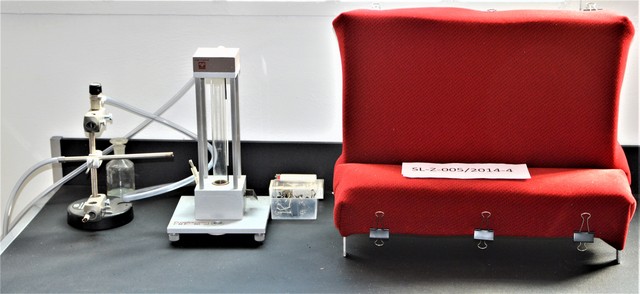 Stand for testing the ignitability of upholstered furniture
Observe the progress of combustion, and record any evidence of progressive smouldering or flaming in the interior and/or cover. At the end of each trial, a upholstered furniture is examined to determine possible internal progressive oxygen.
Test specimen.
Cover. The flammability tests of the upholstered set should be performed on covering material samples with dimensions of 800+10x 650+10mm.
Where a separating cloth is used, it must be cut identically and with the same orientation as the cover fabric to fit the test rack under cover.
Upholstery Filling. For each test, two test systems with the following dimensions are needed:
a) one piece 450+/-4mm x 300+/-5mm x 75+/-2mm thick,
b) one Piece 450+/-5mm x 150+/-5mm x 75+/-2mm thick.
Some cushioning assemblies may consist of several layers that may be typically felt, wadding or different foams. In these cases the test pieces shall reproduce the upper 75mm of the cushioning assembly. Where the filling is less than 75mm thick, the test piece shall be built up to the required thickness by adding to the underside a further layer of the bottom material.
Loose fill (e.g. foam pieces, feathers) can be evaluated by this method.
To test the resistance to the smoldering of a cigarette, just prepare one set. The test for flame resistance requires the preparation of at least two samples.
Evaluation of results. If, within 1h of the application, the ignition sources no progressive smouldering ignition or flaming ignition of any element of the upholstered system is observed, the result of the test of this system shall be considered positive.
Applying research methods:
shipbuilding (requirements according to

IMO 2010 FTP Code Part 8

),

UK requirements (requirements of the norm BS 7176).