Melting Behaviour R118a7
Laboratory
TEST TO DETERMINE THE MELTING BEHAVIOUR OF MOTOR VEHICLE MATERIALS WITH A METHOD ACCORDING TO APPENDIX 7 OF REGULATION NO. 118 EKG
Principle of the method. Four samples, for both faces shall undergo the test. A sample is placed in a horizontal position and is exposed to a heat flux of 30kW/m2 for 5 minutes. A receptacle is positioned under the specimen to collect the resultant drops.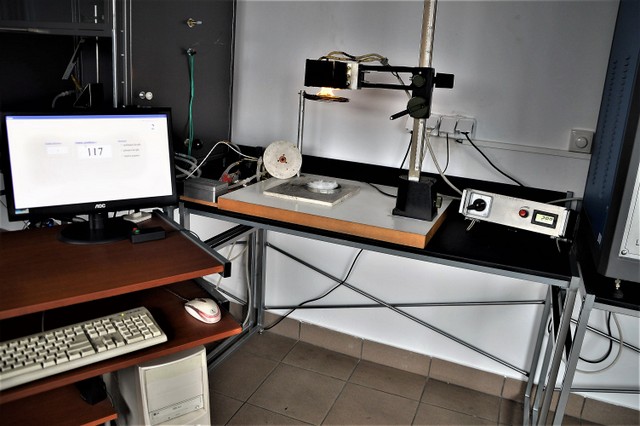 Stand for determining the melting behaviour of motor vehicle materials
At the time of the test, the time of the cotton wool from the falling burning droplets of molten material is determined. Some cotton wool is put in this receptacle in order to verify if any drop is flaming. The test result is considered satisfactory if, taking into account the worst result, precipitation flaming drop the incendiary cotton fibre is not formed.
Test samples.
The test samples shall measure: 70x70mm. Samples shall be taken in the same way from finished products, when the shape of the product permits. When the thickness of the product is more than 13mm, it shall be reduced to 13mm by a mechanical process applied to the side which does not face the respective compartment (interior, engine or separate heating compartment). Composite materials shall be tested as if they were of uniform construction. In the case of materials made of superimposed layers of different composition which are not composite materials, all the layers of material included within a depth of 13mm from the surface facing towards the respective passenger compartment (interior, engine or separate heating compartment) shall be tested individually. If the two faces of the material differ, both faces must be tested, which means that eight samples are to be tested. The total mass of the sample to be tested shall be at least 2g. If the mass of one sample is less, a sufficient number of samples shall be added.
Applying research methods – motor vehicle (requirements according to Regulation no. 118 EKG Appendix 7