PN ISO 5658-2 FTP 5
Laboratory
DETERMINATION THE SURFACE FLAMMABILITY OF THE NON – METALLIC MATERIALS/PRODUCTS WITH METHODS ACCORDING TO PN ISO 5658-2,
IMO 2010 FTP CODE PART 5
AND PN-EN 45545-2
Principle of the test.
The specimens, in the presence of the flame initiating the burn, are exposed to a graded radiant flux field (from 50.5kW/m 2 to 1.5kW/m 2) supplied by a gas-fired radiant panel. The flame is spreading along the sample in direction in accordance with the decreasing flux density thermal, up to the moment of spontaneous going out.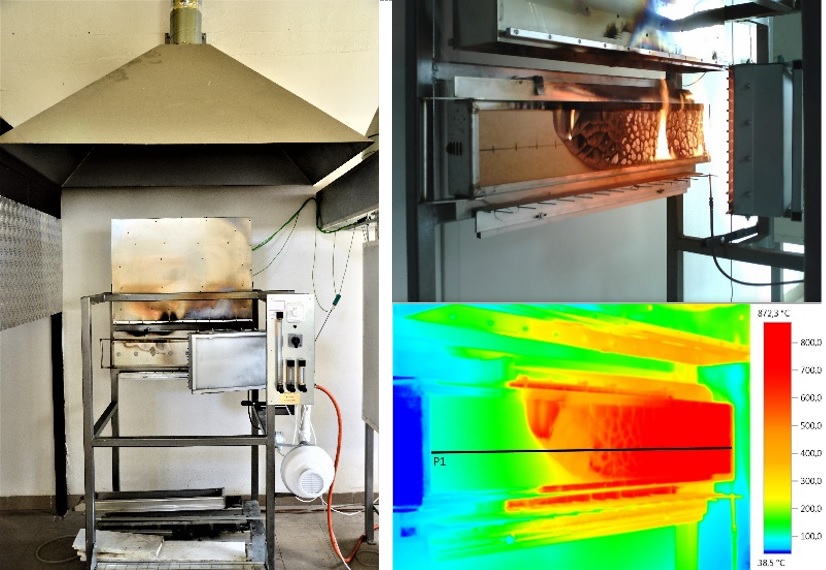 Stand for testing surface flammability of materials or products.
Means are provided for observing the times to ignition, spread and extinguishment of flame along the length of the specimen as well as for measuring the compensated millivolt signal of the stack gas thermocouples as the burning progresses. Experimental results are reported in terms of:
critical flux at extinguishment (CFE), kW/m2,

heat for sustained burning, MJ/m2,

heat release of specimen during burning, MJ.
Test specimen.
He is undergoing the examination three representative for given material/product of the sample about dimensions of 800mmx155mm about the thickness not crossing 50mm.
In case of textile floor coverings one should prepare six samples for examinations - three specimens shall be cut lengthwise and three crosswise.
Applying research methods:
shipbuilding (requirements according to

IMO 2010 FTP Code Part 5

),

railways (according to: R1, R2, R3, R4, R7, R11, R12 and R17 requirements of the norm PN-EN 45545-2).