ISO 5660-1 FTP 10
Laboratory
TESTING THE HEAT RELEASE RATE, SMOKE PRODUCTION RATE AND THE MASS COMBUSTION RATE WITH METHODS ACCORDING TO ISO 5660-1,
IMO 2010 FTP CODE PART 10
AND
PN-EN 45545-2
Principle of the test method.
The test method assess the heat release rate, dynamic smoke production rate and mass loss rate of specimens exposed in the horizontal orientation to controlled levels of heat flux with an external spark igniter.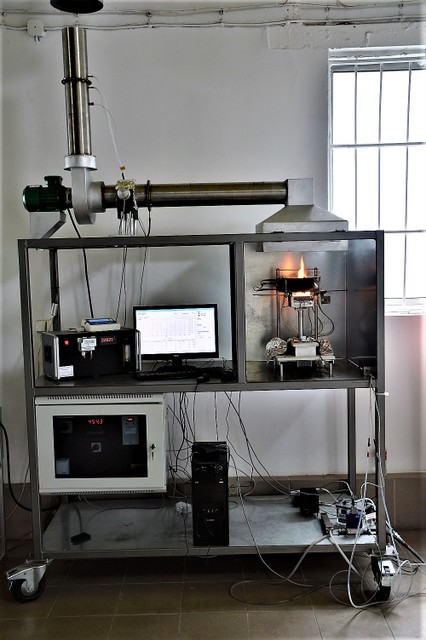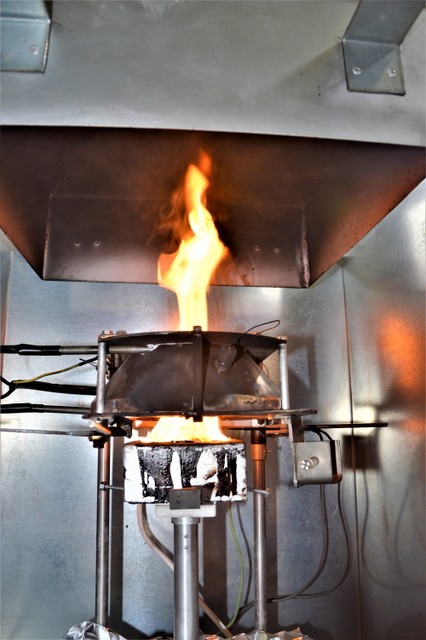 Stand for testing heat release rate and smoke production rate of materials
The heat release rate is determined by measurement of the oxygen consumption derived from the oxygen concentration and the flow rate in the combustion product stream. The test method is based on the observation that, generally, the net heat of combustion is proportional to the amount of oxygen required for combustion. The relationship is that approximately 3,1×103kJ of heat are released per kilogram of oxygen consumed.
The dynamic smoke production rate is calculated from measurement of the attenuation of a laser light beam by the combustion product stream.
Test specimen.
He is undergoing the examination three representative for given material/product of the sample about dimensions of 100
x100mm about the thickness not crossing 50mm.
For products with a normal thickness of greater than 50mm, the requisite specimens shall be obtained by cutting away the unexposed face to reduce the thickness to 50mm.
Applying research methods:
The scope of appointed parameters and conditions of the thermal decomposition and burn are being established based on specifications depending places of applying inspected material/products:
shipbuilding (requirements according to

IMO 2010 FTP Code Part 10

),

railways (according to: R1, R2, R3, R5, R6, R7, R8, R9, R10, R11, R12, R17, R19, R20 i R21requirements of the norm PN-EN 45545-2).