PN-EN ISO 11925-2
Laboratory
IGNITABILITY TEST OF MATERIALS AND PRODUCTS WITH METHODS ACCORDING TO PN-EN ISO 11925-2 AND PN-EN 45545-2.
Principle of the method.
The test

are being conducted in the ventilating chamber. The sample, upright, is being subjected to the effect of the gas burner flame about the flame height of 20mm.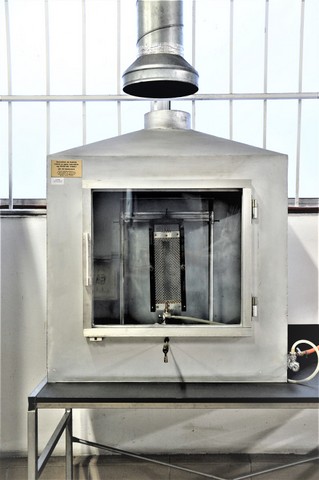 Stand for testing the ignitability of building products and materials.
The following flame application times are available: 15s, 30s or 60s. After this time are being moved away burner.
Tests may need to be conducted to either surface exposure or edge exposure, or both.
For each of the test specimens, record the following:
whether the flame tip reaches 150mm above the flame application point, and the time at which this occurs;

presence of flaming droplets/particles which cause ignition of the filter paper;

observations of physical behaviour of the test specimen.
Test specimen.

For each exposure condition, a minimum of six representative specimens of the product shall be tested. Three specimens shall be cut lengthwise and three crosswise.
For products which are normally manufactured in sizes less than the test specimen, a test sample of appropriate size shall be specifically produced for the test.
If a product under test is asymmetric through its thickness and in practice either face may be exposed to a source of ignition, test a separate series of specimens on each face.
Where a product has areas of its surface which are distinctly different, but each of these separate areas can satisfy the surface characteristics for essentially flat products, then more than one test set shall be conducted to evaluate the product.
If a product is installed with covered edges, but can also be used with unprotected edges, tests shall be performed on both covered and uncovered specimens
Dimensions of the test specimens.
Specimens normally having a thickness of 60 mm or less shall be tested using their full thickness. Specimens normally having a thickness greater than 60mm shall be reduced to a thickness of 60mm by cutting away the unexposed surface. If it is necessary to reduce the specimen size in this manner, the cut surface shall not be exposed to the flame.
Applying research methods:

civil engineering (requirements according to PN-EN 13501 for European Classification System: B, Bfl, BL, C, Cfl, CL, D, Dfl, DL, E, Efl i EL),

railways (according to the R4 and R5 requirements of the norm PN-EN 45545-2).