PN-EN ISO 9239-1
Laboratory
DETERMINATION OF THE FLOORINGS BURNING BEHAVIOUR WITH METHOD ACCORDING TO PN-EN ISO 9239-1
Principle of the method.

The test consists on surrendering the sample laid horizontally on undercoat applied in practice to action of the outside thermal stream, about the standardized disintegration densities along the sample, and the flame initiating the burn. The flame is spreading along the sample in direction in accordance with the decreasing heat flux density, up to the moment of spontaneous going out.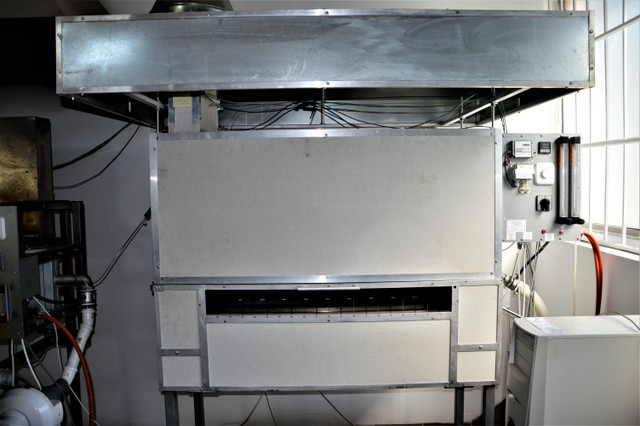 Stand for determination of the floorings burning behaviour with method according to PN-EN ISO 9239-1
A critical heat flux at extinguishment - CHF is a measured size which means smallest value of the heat flux of the sample surface of tested material, by which flame burn spontaneous going out.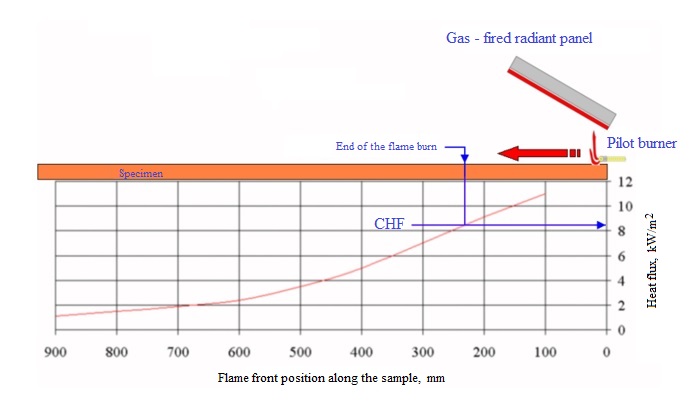 Measurement principle of the critical heat flux
CHF - is characteristic of a material resistance for action of setting fire outside sources. CHF constitutes the ground for establishing the class of reaction to fire of floorings.
Alongside inspecting the reaction to fire of floorings testing smoking their products of the thermal decomposition out and the burn are being conducted. Smoke production during the test is recorded as light transmission in the exhaust stack.
Test specimen.
The test specimens shall be representative of the flooring in its end use.
Cut 6 specimens with dimensions (1 050 ± 5) mm × (230 ± 5) mm, three in one direction (e.g. production direction) and three in a direction perpendicular to the first direction.
The specimen shall be mounted on a substrate that simulates the actual floor and shall simulate actual installation practice.
Applying research methods:
civil engineering (requirements according to PN-EN 13501 for European Classification System: A2fl, Bfl, Cfl, Dfl , Efl lub Ffl),

railways (according to the R10 requirement of the norm PN-EN 45545-2).