PN-EN ISO 15025
Laboratory
TESTING ON LIMITED FLAME SPREAD OF PROTECTIVE CLOSING WITH A METHOD ACCORDING PN-EN ISO 15025
Principle of the method. This test consists of exposing samples, held in a vertical position, to a flame and determining the speed of propagation of the flame over the tested material.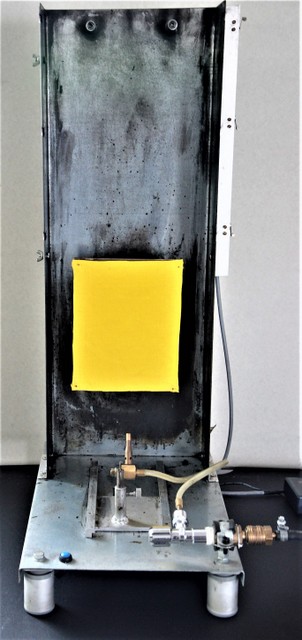 Stand for testing limited flame spread of protective closing
Tests may need to be conducted to either surface exposure or edge exposure, or both.
During the tests, the following parameters shall be determined:
duration of flame application;

ignition of filter paper from drops;

occurrence of surface flash and its propagation length;
Test specimen.
The specimens shall be as representative as possible of the material provided and shall exclude selvages. At least 6 specimens shall be cut, each measuring 200mm x 160mm, five in the direction of the warp, five in the direction of the weft. Where the fabric has differing surfaces on the two sides enough samples shall be cut for both surfaces to be tested.
Applying research methods - protective closing