PN-EN 60695-11-5
Laboratory
IGNITABILITY TEST OF MATERIALS AND PRODUCTS WITH NEEDLE – FLAME TEST METHODS ACCORDING PN-EN 60695-11-5
Principle of the method.
The test

are being conducted in the ventilating chamber. The test of resistance to inflammation of the material from the flames of the needle burner shall be carried out to determine the fire hazard of the plastics used in products intended for use in devices and instruments (e.g. in housings and housings some electrical devices). Under certain conditions, e.g. as a result of leakage currents following conducting paths, component overloads or parts; as well as faulty connections, flames may also arise. These flames may spread to adjacent combustible parts.
The assay flame shall be sampled into this part of the surface of the test sample which is likely to be affected by flames, during normal use or under conditions of damage.
The most common surface or edge interaction is used.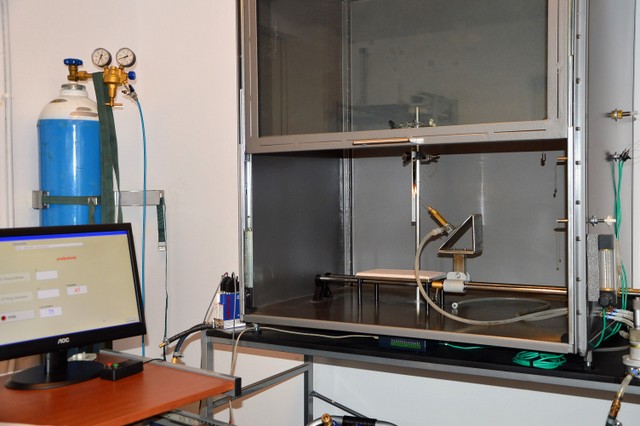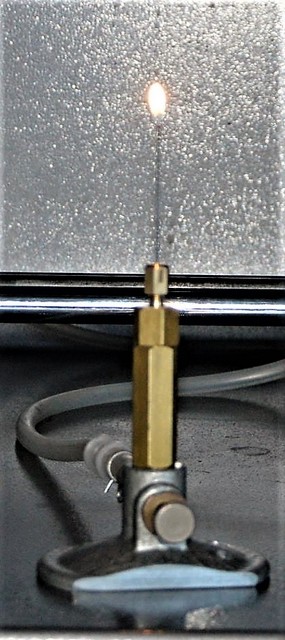 Stand for testing the assessment of ignitability of materials/products with needle – flame test methods
If the product standard does not give the time of flame impact, the following firing times of the sample shall apply: 5s, 10s, 15s, 20s, 30s, 60 or 120s. After this time are being moved away burner.
Evaluation of results. Unless otherwise specified in the product standard, the test sample shall be deemed to have undergone a positive test with a needle feed flame when one of the following conditions is met:
there was no burning or glowing of the test sample, nor did the washer or the paper become ignited,

burning or glowing test samples and surrounding parts of the sample expire within 30 s after the offset needle property,

the surrounding parts have not burnt completely,

the specified layer placed underneath the test specimen does not ignite.
Test specimen.
If possible, a device, subassembly or component shall be used as a sample. If it is not possible to attempt on a sub-assembly or element inside the device, take it on a test sample removed from the device.
If required by the product standard, the test shall be carried out at more than one point of the same test sample. In this case, ensure that any damage caused by the performance of the not affect the outcome of the next sample. Unless otherwise specified in the product standard, the test shall be carried out on three test samples.
Applying research methods - civil engineering (electric products)